If upgrading from 4.1.2 or before, please see the following notes,
Snapshot your environment before upgrading, because you will not be able to rollback to previous versions. If you need to use the snapshot, we recommend new VM if existing VM does not work.
If you have any windows in your environment,

Make sure at least the WSUS Primary and Replica servers are using at least connector 4.1.2.231 or above (ideally on all servers).
Ensure no endpoints are using Client Side Targeting mode, because it is not supported in this version. Note: Client side targeting is not necessary with the move to smart groups and the WSUS group management mechanism enhancement (read 4.2.2 release notes for more information)
If you are using JetPatch to patch WSUS Replicas, please make sure the Replicas are pointing to the Primary (see article), otherwise replica endpoints will be stuck in "Synchronizing Endpoint"
Please allow a few hours after upgrade before using platform. This is a one-time migration.
After upgrade and auto-migration, any additional changes manually imposed to WSUS, i.e. not using JetPatch, will be reverted back to the settings as they appear in JetPatch. Once JetPatch is configured to WSUS it becomes the sole manager of WSUS. If any windows endpoints are stuck in "Updating Endpoint" (via Endpoints > Groups) please manually migrate by adding it to any other existing or new smart group. After about 30-45 minutes, it should be in a ready state again.
Version: 4.2.3 + Connector 4.2.2.24 (Sep 8, 2022)
4.2.3 UR1 (build 84) - Oct 13, 2022
What's New
UI Improvements: Various improvements have been made to the UI to not only improve the visual aspect of JetPatch but also many workflow improvements.
Before 4.2.3

With 4.2.3

As you can see, there has been changes to the color palette, as well as various changes to icons and pop up behavior.
New Default Page: Endpoints > Management
Knowledge Center Quick Access Links: Each page in JetPatch now has a quick link (in the form of a question mark) that will send the user directly to the corresponding Knowledge Center article

Remediation Plan Bulk Actions: The "Remediation Plan" page allows for 5 new bulk actions:



Cancel All Completed Plans - This option will cancel all completed and archived remediation plans, changing the status from "Done" to "Cancelled," deactivating the remediation plan.
Archive All Canceled Plans - This option will archive all cancelled remediation plans
Delete All Archived Plans - This option deletes all remediation plans that have been archived (either cancelled or completed)
Delete All New Plans - This option will delete all remediation plans that are in a "New" state (not activated)
Clean Up The Board - This option will delete all completed and archived plans, whether done or cancelled by the user
Please read the Remediation Plans Board article for more information
Service Now Template Integration: With enhancements to the out-of-the box ServiceNow integration, users are able to

Ability to create a change request ticket with a standard template
Populate the 'Affected CI' list
Set 'start_date' and 'end_date' based on MW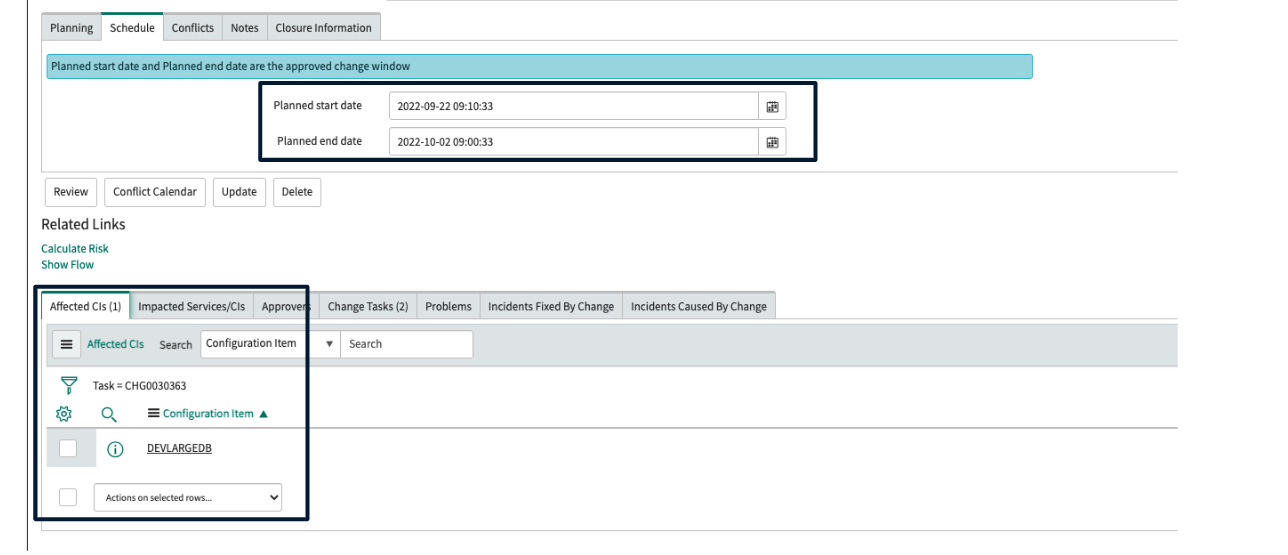 Continuous Improvements
Workflows can now be added or modified during remediation plan creation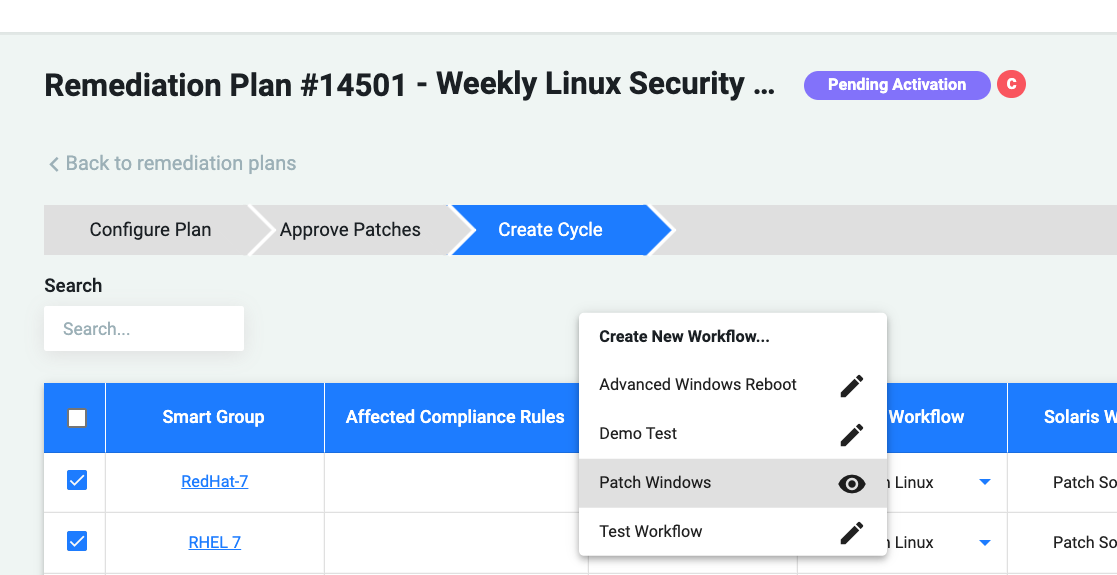 Endpoints > Management now has a column for IP address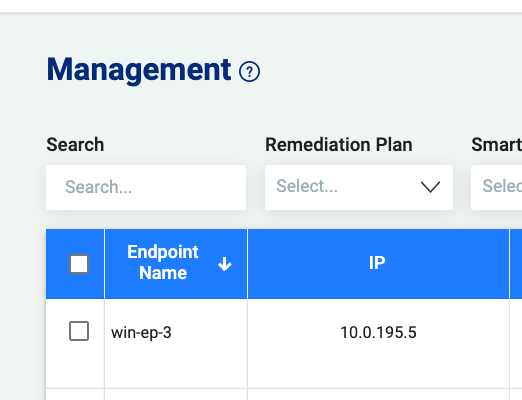 System created maintenance schedule set for "All Time" to allow 24/7 ad-hoc patching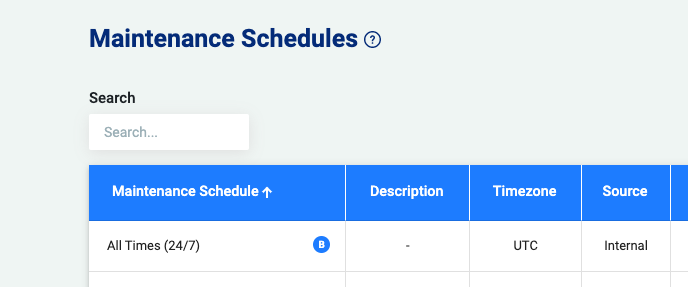 Agent Management Support added for Ubuntu 22.04 Jammy Jellyfish
Archiving a remediation plan will now automatically cancel it
When manually added a new endpoint to JetPatch, the following EOL operating systems are hidden:

RHEL 5
CentOS 5
CentOS 6
Ubuntu 14
Bug Fixes
Slow loading of Agents & Tools > Tools Catalog and Agents & Tools > Exceptions page: Resolved issue where it took upwards to 20 seconds for both the Tools Catalog and Exceptions pages to load
RHEL 7 and 8 collect endpoint exit code 340: Resolved issue of RHEL7 and RHEL8 giving a "340" exit code when running the "Collect Endpoint Updates" system task
Failed to configure mail SMTP: Resolved issue in 4.2.2 where the system fails to configure the SMTP server
Known Issues
New in 4.2.3
WSUS Replica

Replica Group Sync - Endpoint Status is stacked on Updating Endpoint after upgrade (Fix: 4.2.3 UR1)
Patching WSUS Replica with JetPatch - Must set WUA of Replica to Primary, see article (Fix: 4.2.4)

Patches Catalogs - No Indication for broken saved filter Based on Smart Groups (Fix: 4.2.4)
Predictive Patching - Smart Group statistics can show the same group twice (Fix: 4.2.4)

In Endpoints > Activities, "Succeeded" in the Status column is cut off at the final letter (Fix: 4.2.4)

System default maintenance schedule "All Time" not created but maintenance entry present when creating new schedule (Fix: 4.2.3 UR1)

Predictive Analytics disabled only on new installed (Fix: 4.2.4)
From 4.2.2
WSUS servers operating in

Client Side Targeting

mode are not supported in this version. Client side targeting is not necessary with the move to smart groups and the WSUS group management mechanism enhancement. (Unplanned)

If you are using JetPatch to patch WSUS Replicas, please make sure the Replicas are pointing to the Primary (see article), otherwise replica endpoints will be stuck in "Synchronizing Endpoint" (Fix: 4.2.4)

Dashboard->Operating System filter drop down list is not aligned with user server scope (Fix: 4.3)

Tasks - User Scheduled Queued Tasks don't persist after tomcat restart (Fix: 4.2.4)