Maintenance Rule Properties
To define a Maintenance Rule, navigate to Rules > Maintenance Rules.

Creating a Maintenance Rule will auto-assign group endpoints to a maintenance schedule, so users can define smart groups that will be patched according to a set maintenance schedule.
Maintenance Rule Name - The name assigned to a given Maintenance Rule

Example: US Windows MW Rule

Description - Optional notes you can write in for each Maintenance Rule
Maintenance Schedule - The Maintenance Schedule that applies to the Maintenance Rule
Smart Group - The Smart Group(s) that define the endpoints that apply to the Maintenance Rule
Status - On/Off, dictates whether or not the Maintenance Rule is active
Last Modified - The last date a change was made to the Maintenance Rule
Affected Endpoints - The endpoints defined within the given list of Smart Groups
Actions - View Schedule, Edit, Delete
In the Maintenance Rules table you can sort the table using the following filters:
Search

- This filters the table by Maintenance Rule Name

Maintenance

- Filters the table by Maintenance Schedule

Smart Group

- Shows Maintenance Rules that apply to a given Smart Group
Status - Allows you to filter by Enabled/Disabled Maintenance Rules
Adding a New Maintenance Rule
Clicking on the 'Add' will open a window for adding the requested Maintenance Rule (same properties as above).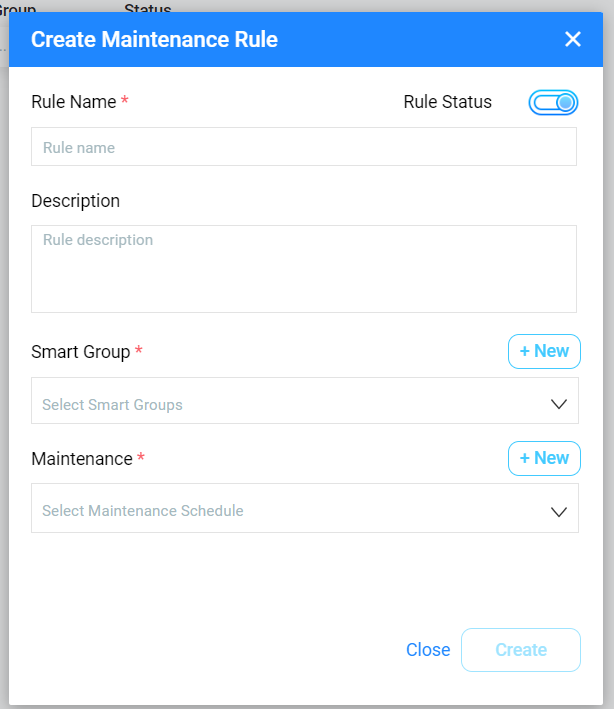 *Note - The 'Add' button for both the Smart Group and Maintenance properties will allow you to conveniently add new Smart Groups and Maintenance Schedules respectively.
For any Maintenance rule, you can find the following information:

Name
Description
Maintenance Schedule
Smart Group

Clicking on a Smart Group will Filter Table results respectively

Status
Last Modified
Affected Endpoints - Number of Endpoints that are affected by this Rule

Clicking on that Number will Navigate the User to the 'Endpoint > Maintenance' Screen filtered by relevant MS
Pay Attention: Quantity can be different if some assignment is changed Manually
Set Rules Priority
User will be able to drag Up and down Rules to Set Priority (Same as on Agent & Tools > Tools Catalog > Policy) - Bases on Order

When a User Drags a Rule, A Confirmation will be displayed when the User changes Priority :

Are you sure you wanna change the Priorities of the rules?
This will affect the assigned MW on all relevant endpoints! (Yes / Close)

When User Confirms Pop-Up - All Relevant Endpoints will be Auto-Assign to MW According to Rules Priority

Endpoints that are assigned to Several Smart Groups that are set to Rules will be Auto-Assign to the MW on the Highest Rule (Based on Rules Order)