Endpoint Configuration for WSUS
Verify that the ports 8530/8531 are open on the WSUS server for the endpoints to register
Verify that IPV6 is disabled on all Windows endpoints and the WSUS server
Verify that no Windows endpoints have duplicative SusClientId
Register the endpoints to the WSUS server (this can be done either by domain policy or local policy). In order to register endpoints to WSUS:

Open the group policy of the endpoint (start->run->gpedit.msc)
Configure Updates by going to Computer Configuration -> Administrative Templates -> Windows Components -> Windows Updates ->

Configure Automatic Updates -> Enabled and set to "notify for download and notify for install"
Specify intranet Microsoft update service location -> Enabled and set both URL's to http://wsusserverip:8530 (if using SSL use https and 8531)

Enable PowerShell execution policy to run scripts

Open Command Prompt and run the following commands to use the new policy and to register it on WSUS


gpupdate /force
Windows version is less then 10/2019 -

wuauclt /resetauthorization /detectnow /reportnow

Windows version is 10/2019 or later -

USOClient.exe RefreshSettings
USOClient.exe StartScan

Note1: if the machine is still not reporting to WSUS, open windows update agent, check for updates, and verify if that is working. If not, troubleshoot. If it does work, go back to WSUS, refresh, and see if the endpoint is now reporting.
JetPatch Configuration for WSUS
Recommendation: Have all endpoints registered and reporting to the WSUS server (as per the above steps). It is also suggested to have the endpoints in WSUS groups before using JetPatch.
Do the following in order (note: the connector must be deployed on the WSUS server before it can be added as a discovery source)
Note: You can only add one WSUS server as discovery source to JetPatch. For more WSUS servers use a primary-replica or primary-autonomous setup.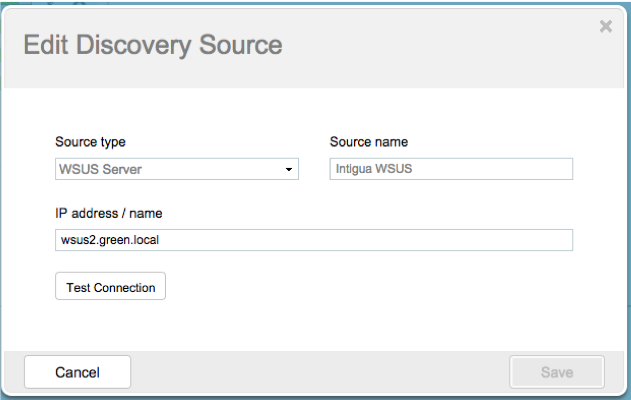 Related Articles