As part of the tools overview page, you can now see more details on a selected server.
In order to get the server details, just click on a server in the servers map. After clicking, you will be able to see the following details:
Server details
Server name
IP (or IPs if there are multiple IP addresses)
OS
Source (vCenter, Azure, AWS, Physical instance)
Server state - whether the server is on (running) or off.
JetPatch status - based on the JetPatch Connector connectivity to the JetPatch Server

Untested - JetPatch has not yet attempted to communicate with the server. It is required to refresh it's status in order to retrieve further information.

No connector installed - The JetPatch Connector is not installed on the server

Connected - JetPatch is connected and running on the server

Error - JetPatch related error occurred (e.g. The JetPatch Connector is either disconnected, down or there are invalid credentials)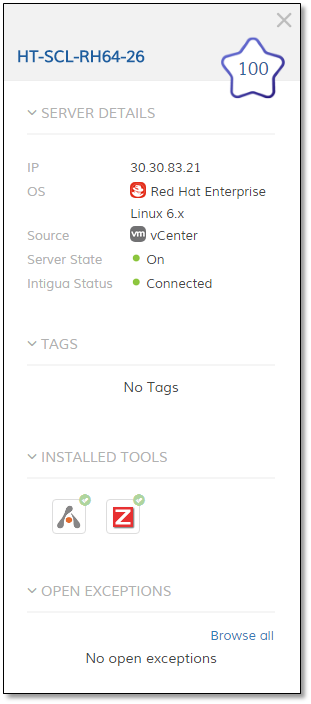 Tags
Shows a list of all the tags that are assigned to the server. Hover on a tag to see its color.

Installed Tools
Provides a list of tools that are installed on the selected server and their status.
Click on tool to retrieve its details:
Tool status

1. Tool is installed but not running

2. Tool has failed to run

3. Tool is running

Service name
Tool version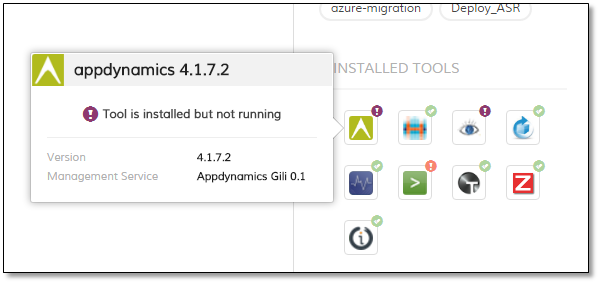 Open exceptions
Shows a list of all exceptions on the selected server, ordered by severity. Click "Browse all" to be directed to the exception grid, that is filtered by the specific server.