As part of the tools overview page, you can now see more details on a selected server.
In order to get the server details, just click on a server in the servers map. After clicking, you will be able to see the following details:
Server details
Server name
IP (or IPs if there are multiple IP addresses)
OS
Source (vCenter, Azure, AWS, Physical instance)
Server state - whether the server is on (running) or off.
JetPatch status - based on the JetPatch Connector connectivity to the JetPatch Server

Untested - JetPatch has not yet attempted to communicate with the server. It is required to refresh it's status in order to retrieve further information.

No connector installed - The JetPatch Connector is not installed on the server

Connected - JetPatch is connected and running on the server

Error - JetPatch related error occurred (e.g. The JetPatch Connector is either disconnected, down or there are invalid credentials)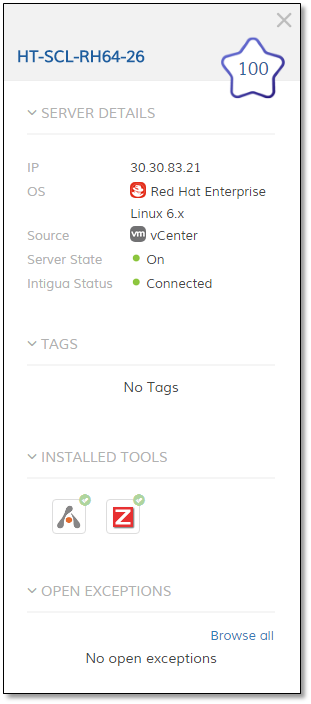 Tags
Shows a list of all the tags that are assigned to the server. Hover on a tag to see its color.

Installed Tools
Provides a list of tools that are installed on the selected server and their status.
Click on tool to retrieve its details:
Tool status

1. Tool is installed but not running

2. Tool has failed to run

3. Tool is running

Service name
Tool version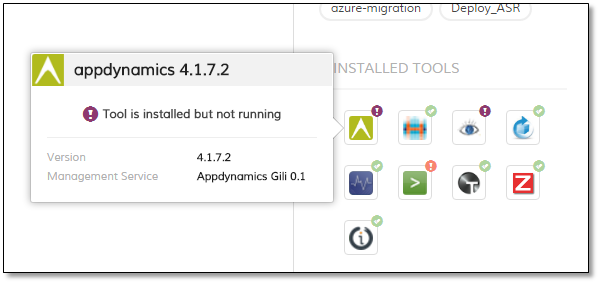 Open exceptions
Shows a list of all exceptions on the selected server, ordered by severity. Click "Browse all" to be directed to the exception grid, that is filtered by the specific server.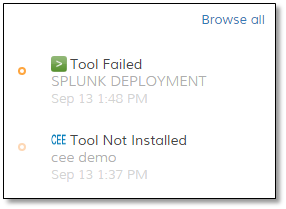 Enterprise readiness score
This server specific score provides a quick reflection of the server readiness qualification based on the enterprise or organizational requirements. This number ranges between 0-100 and grades each server based on the policy rules that applies on that server. The grade takes under consideration the number of rules, the open exceptions, their severity and their type. The grade also weighs JetPatch's status, and the reason is that without the presence of JetPatch, the full picture may not be clear. So if the server is connected and has no exceptions it will get 100, while if the server is disconnected and have 2 exceptions out of 2 rules it is likely to receive a very low score.
Notice that a server is required to have at least one rule on it and to be powered on in order to receive the score (otherwise the score will indicate 'N/A')
Click the score shield image to receive further information about the score and how to improve it.
Note: these scores are based on configurable weights (see below defaults)
enterprise.ready.tool.as.package.exception.weight=1

enterprise.ready.wrong.tool.version.exception.weight=0.85
enterprise.ready.wrong.tool.service.exception.weight=0.8
enterprise.ready.tool.not.installed.exception.weight=1
enterprise.ready.tool.should.not.be.installed.exception.weight=1
enterprise.ready.tool.stopped.exception.weight=0.6
enterprise.ready.tool.failed.exception.weight=0.9
enterprise.ready.tool.health.warning.exception.weight=0.6
enterprise.ready.tool.not.registered.exception.weight=0.5
enterprise.ready.tool.registration.failed.exception.weight=0.5
enterprise.ready.configuration.groups.mismatch.exception.weight=0.7

enterprise.ready.high.severity.exception.weight=1
enterprise.ready.medium.severity.exception.weight=0.95
enterprise.ready.low.severity.exception.weight=0.9

enterprise.ready.intigua.status.not.installed.weight=0.95
enterprise.ready.intigua.status.untested.weight=0.9
enterprise.ready.intigua.status.connected.weight=1
enterprise.ready.intigua.status.error.weight=0.75
enterprise.ready.intigua.status.no.status.weight=0.75