JetPatch can deploy and update 3rd party software with the following two steps
Overview of Components
The JetPatch 3rd Party Software solution consists of several components:
Windows Update Center

- The Microsoft Windows main repository.

Windows Server Update Services (WSUS)

- The Microsoft Windows repository for Windows patches, pulling the patches from the Windows Update Center

Windows Update Agent (WUA)

- The agent that is installed on each Windows endpoint and configured to communicate and pull patches from the WSUS.

Windows Endpoint

- Any Windows Server/Desktop supported by JetPatch

JetPatch Application

- The JetPatch Application

JetPatch 3rd Party Software Plugin

- An extension deployed on the WSUS to push 3rd party software and updates through WSUS and WUA

JetPatch Catalog

- A repository of 3rd party updates.

3rd Party Software Certificate

- A certificated that sign the updates on the WSUS so the WUA will be able to install them.
High-Level Architecture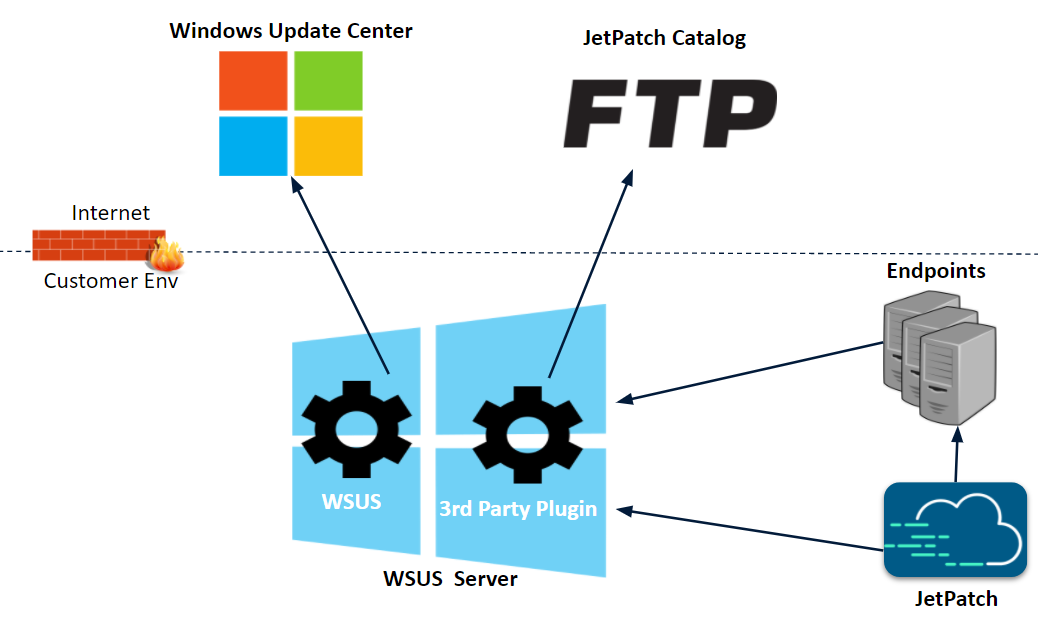 WSUS Server
The WSUS Server consists of two main components
WSUS - Communicating with the Windows Update Center to pull the latest Microsoft Windows patches. Updates are pulled

automatically

using WSUS Synchronizations
3rd Party Plugin - Communicating with the JetPatch Catalog to pull the latest 3rd party updates.
Updates are pulled

manually

using the 3rd party plugin. JetPatch team will update you whenever a new update/software is available.

Note

- in the future this will be automatically done by JetPatch)
Updates Information
Both of the updated information (from Windows Update Center and JetPatch Catalog) are eventually populated into the WSUS.
JetPatch
JetPatch is controlling the environment by managing the WUA on the Endpoints (using the JetPatch Connector). It also pulls all of the patches information every configured time (along with other required information)
Endpoints Configuration
The Windows Update Agent in the Endpoints is configured to work with the WSUS and can deploy 3rd party updates. No additional ports needed.
A dedicated 3rd party updates certificate should be installed on the endpoints (and the WSUS) to verify the package integrity from the WSUS to the Windows endpoint.
Frequently Asked Questions
Q: Which applications and software are JetPatch supports?
A: JetPatch supports multiple applications and software including some middleware applications. A full list, including the versions of the applications, can be found in Supported 3rd Party Software.

Q: Which Operating Systems and Platforms are JetPatch supports?
A: JetPatch solution for 3rd party software is for the Windows environment (Servers and Workstations/Desktops), both 64-bit and 32-bit architectures. For supporting other Operating Systems please contact JetPatch.

Q: But what about Linux applications?
A: JetPatch supports some applications. It depends on the OS Vendor support and subscription. For example, if Red Hat releasing updates to Tomcat for RHEL7 - JetPatch will support it natively. For other 3rd party linux, see article.

Q: Are you supporting 3rd Party Software for Patch Management as a Service (PMaaS)
A: Yes, the JetPatch 3rd Party Software support PMaaS in the same way. The only change is in the WSUS location which will be in a centralized location over the internet. Note that the same certificates should be installed on any connected endpoint to the JetPatch.

Q: Which operations JetPatch can apply on 3rd party software?
A: Using JetPatch, you can deploy new 3rd party software or update existing ones to the latest versions. At the moment, the 3rd party plugin does not support application removal, but we can help you do that using other JetPatch features

Q: What is the JetPatch Catalog and why can't I access it?
A: The JetPatch Catalog is a proprietary repository with a variety of applications for our customers to use. It is located in a secure location on one of the biggest cloud vendors.

The JetPatch Catalog is restricted to JetPatch customers. If you are trying to deploy the 3rd party solution and having issues reaching the catalog - please contact JetPatch with the environment external IP (the public IP the WSUS is using) and we will provide you access.

Q: What is the price of all that goodness?
A: It's free of charge! Our customers can use the full JetPatch Patch Management power immediately after the JetPatch deployment.

Q: What is the required setup for having the JetPatch 3rd Party Software Solution?
A: There are a few deployment steps for the JetPatch 3rd party plugin, followed by environment setups (Certificates and GPO changes). You can check the full process, starting from Install the 3rd Party Software Plugin guide.

Q: How am I configuring the 3rd party software plugin in the JetPatch Application?
A: After following these instructions - There are no additional configurations you need to do! JetPatch is automatically detecting the 3rd party software and updates in WSUS and showing them as any other OS patch in the Patches Catalog.
Q: I don't see my required application in the JetPatch Supported 3rd Party Software list. When will you support it?
A: We are doing our best to extend our 3rd party catalog (along with developing other great features) and as with any content creators - it's taking time to support a freshly new application. Please send us more information about your request and we will be happy to provide you with an estimated time for the support. See contact information.

Q: I see JetPatch supports my required application, but it's not the latest version!
A: JetPatch is always working to support the latest version available and it is taking time to wrap & test a new version (we don't want it to crush your endpoints...). We will be happy to know what you are waiting for - please send us a message! See contact information.

Q: My organization is using an internal application, Can JetPatch support it?
A: Yes! JetPatch can support propriety applications. Our professional services team will be happy to guide you in wrapping your application. See contact information.

Q: I only need to push some executables... Do I need the JetPatch 3rd Party Software solution for that?
A: If your only request is to push an executable - you can follow the How to execute a Binary executable file guide. You will find it very easy to do that with JetPatch. You can even monitor the execution activities by Creating a Custom Report.
Q: Can I rollback 3rd party updates?
A: Currently, not supported.
Q: But what is the difference between the JetPatch 3rd party software solution to the JetPatch Agent Management Module?
A: The JetPatch Agent Management Module is a separate module. It provides a full Enterprise Agent Management solution and includes an automated, policy-based process for managing and monitoring the agents in your environment (Cloud and On-Premises) in every step in the agent lifecycle - starting with deploying the agent, configuring it with the requested setting, and make sure it was fully removed if needed.

The 3rd party Software solution described above is a built-in feature in the JetPatch Patch Management Module, it provides you the needed capabilities to deploy and update your applications as any other OS patch in your environment.


If you are searching for a full-blown enterprise solution for agent management on (mostly) your organization servers (agents like Splunk, Networker and Zabbix) - the JetPatch Agent Management Module is the solution for you.


But if you are more interested in a single-pane-of-glass for your environment overall patching management with an additional capability of patching 3rd party software user-oriented (such as Google Chrome, Java, Adobe suits) - the JetPatch Patch Management Module with the 3rd party software solution is what you need.

Q: Sounds good! I want to see that in action and ask some questions. How can I contact you?
A: Great! we sure you will love what you see. Check the communication methods below to reach JetPatch out.
Contact Information
If you are a JetPatch customer, please submit a new request or send an email to support@jetpatch.com.
Otherwise, you can talk with us in JetPatch.com chat or send an email to sales@jetpatch.com. Our amazing sales guys will contact you soon.