In the Logs & Alerts tab, the JetPatch Manager Console displays audit and event logs from the JetPatch Manager Console, patching activities and information from managed agents about user and system events, errors, resource levels, and throttling and watchdog actions.

You can use the filters to manage the table and view only relevant actions. For example, you can filter the list by Type: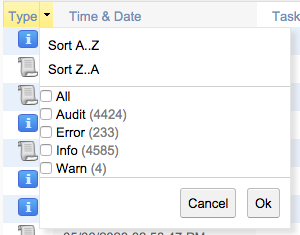 There are several Actions you can perform:
View manager logs
Prepare log service
Report
The report is a .CSV file that shows all data that appears in the Logs & Alerts tab. The downloaded report is dynamic and shows only the filtered data if you have chosen to use the table filters.
How to download the report?
Go to the Logs & Alerts tab
Click on Actions > 'Report'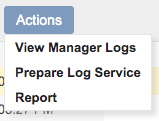 | | | | | | | | |
| --- | --- | --- | --- | --- | --- | --- | --- |
| Report Time | Type | Time & Date | Task | Server | Description | User | Details |