Remediation plans are created either automatically or manually. (Automatic Remediation Plans are marked with '#' sign and manual Remediation Plan are marked with -
)
Automatic Remediation Plan groups all patches that are not part of any other Remediation Plan and are needed on at least one server in the environment.
Patches could be grouped in one automatic - Remediation Plan or separated into Critical and Non-Critical Remediation Plans, based on JetPatch settings the system administrator has defined. A Critical Remediation Plan will be created/updated every 24 hours assuming JetPatch discovered new critical patches. A Non Critical Remediation Plan is created every 30 days.
As long as the Remediation Plan is in the New column additional new patches are added to it automatically (based on system configuration). Once a Remediation Plan is activated no additional patches will be added to it and a new Remediation Plan is automatically created.
Creating a Remediation Plan
Click on

Patches > Patches Catalog

in the main menu

Select the Patches you would like to install. (To easily create the Remediation Plan you can filter by the specific patch name, patch severity, category, etc.)

Click on Create Remediation Plan and enter a Name and Description click

Save & Continue

Approve Patches:

Select the actions you would like to perform on the patches:

Install/Remove/Not Approved/Decline

. You can also add and edit you patch selection by Clicking on

Edit Patches

Note: After a patch is created you can also access and edit it via the Remediation Plans dashboard

After deciding which actions you would like to perform, click on

Save & Continue

Create Cycle:

Select the Endpoint Groups you want the remediation plan to run on and the workflows you would like to run

Choose if you want to

Save Cycle

or

Save & Activate Plan

When a plan is approved it goes to In Progress status ((in the RP dashboard) and is activated according to the maintenance windows set for the endpoints.

When a plan is rejected it will return to the New status (in the RP dashboard) awaiting further action
Save Cycle

the plan will be saved and appear in the RP dashboard under New

Save & Activate Plan the plan will be set to Pending status and a ticket will be sent to ITSM for approval. Please see Integration with ITSM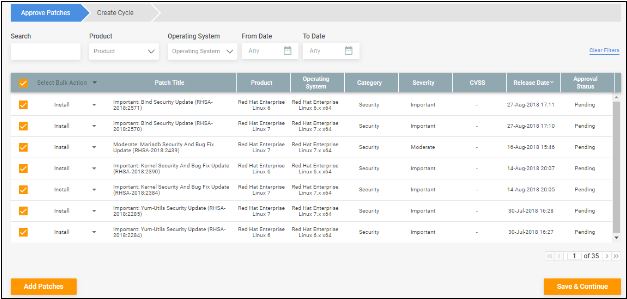 *** Note: a remediation plan will be activated on each endpoint based on the next maintenance schedule configured to that endpoint
Related Articles