In the Logs & Alerts tab, the JetPatch Manager Console displays audit and event logs from the JetPatch Manager Console and from managed agents about user and system events, errors, resource levels, and throttling and watchdog actions:

You can manage the table. For example, you can filter the list by Type: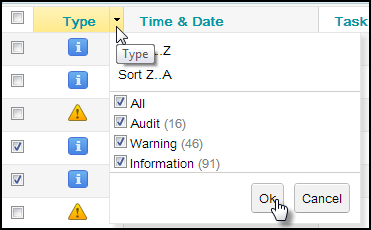 If JetPatch Manager support needs more details about an event, you may be requested to send them the text that appears when you click under Details, or to access other log formats from the Actions menu.
You can view logs relevant to an individual endpoint, from the Servers tab, by clicking its name (in the Name column) and then going to the Logs tab:

To view detailed logs from the connector on a specified endpoint, in the Servers tab, click on a machine's name in the Name column and click View Intigua Logs (to then browse among log files) or Download Intigua Log Package (to download all files, in a zip archive).
JetPatch Manager includes two mechanisms for log quota control:
For regular logs: These are the logs described above. When the number of logs exceeds 80,000 (you can configure this quota), 10% of the logs (the older ones) are deleted.
For debug logs: These logs are for use by JetPatch Agent Manager support, and are saved in /tomcat/logs/ , in up to 10 files of up to 10 MB each. When a tenth file reaches 10 MB, the oldest file is deleted and a new file is started.
You can have logs sent to a syslog server, and/or to SNMP or email.