Patching IBM AIX servers is available with JetPatch. JetPatch makes use of IBM's NIM Master server as the patch Repository, serving all the AIX systems in the local network. Below is a full guide that will help you set up everything you need in order to start patching.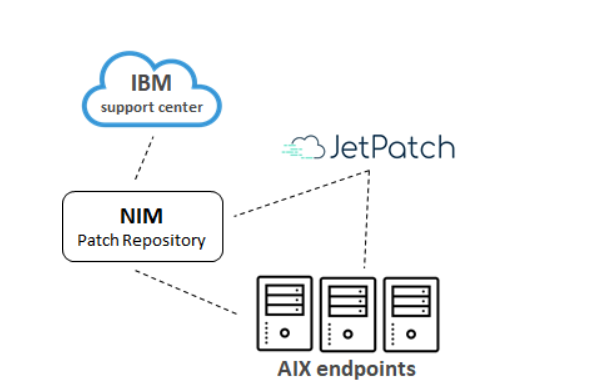 Architecture Overview:
Connectivity is required between the NIM server and IBM repository center to download the patches. The AIX endpoints are communicating with JetPatch Application server and with the NIM repository. Communication is also required between JetPatch and the NIM repository.
Note: one NIM patch repository can support AIX 6.1, 7.1, and 7.2
Pre-Conditions
1. NIM master is configured in your environment. Read more here.
2. NIM server is licensed by IBM's Fix Central website.
3. No connectivity issues between the NIM Master server and IBM's Fix Central website. See Port requirements from IBM: https://www.ibm.com/support/pages/nim-communication-within-firewall-environment
You can validate these two requisites be running on the NIM server the following command:
# /usr/esa/bin/verifyConnectivity -tw
4. All of the AIX client servers should be listed in the NIM server hosts list (etc/hosts). Learn more here.
Configure NIM repository in JetPatch
There are several steps that you should do in order to set up your NIM server to work with JetPatch.
Step 1: Discover and Manage the NIM server
The NIM server should be discovered and managed by JetPatch. Learn more on how to discover servers and deploy the JetPatch connector.
Step 2: Add the NIM configuration to the intigua.properties file
1. SSH to JetPatch server
2. Edit the intigua.properties file by running the below command:
vi /usr/share/tomcat/default/conf/intigua.properties
3. Add the following properties and fill the relevant details
################################




#      AIX configuration       #




################################





## nim server name or ip


pg.aix-nim.name-or-ip=

<IP OR SERVER NAME>



## local mount point for AIX patching 
## dir that is created on the client server once the JetPatch connector is installed
pg.patching.local.mount-point.aix=

/mnt



## NFS mount point for AIX patching 
# specify the folder to download all the patches on the NIM server
pg.patching.nfs.mount-point.aix=

<NIM SERVER IP>:/export/lpp_source
4. Restart tomcat (run service tomcat restart)
Related Articles