You can configure Inclusive policy rules to automatically associate specified agent management services with specified smart groups. Gaps between configured inclusive policy and actual management service deployment are handled in two ways:
In the endpoint list, when an Endpoint's managed agents do not match configured policy, the managed agents are marked with a compliance exceptions. For example: .
If auto-remediation is enabled (in the advanced settings) JetPatch Agent Manager automatically provisions management services and managed agents according to policy. If subsequent to applying a management service to an endpoint by policy, JetPatch Agent Manager finds that the service, managed agent, or connector has been manually removed from the endpoint (not just that the managed agent is stopped), and policy consistency is enabled, JetPatch Agent Manager redeploys the service to the endpoint.

In the current version, policy provisioning auto-remediation is disabled by default and is recommended in all cases..
If any endpoint is included in two or more rules that apply different management services with the same managed agent, the first rule wins and that is the management service that will be applied to the endpoint server.
If due to a change in filter configuration or in endpoint configuration an endpoint no longer belongs to a group, services are not accordingly removed but the rules will no longer be applied on it.
You can also configure Ban rules that will prevent specified agent management services from subsequently being deployed (manually or by policy) to specified smart groups.
The Tools> Selected tool > Policy tab contains a list of configured policy rules for a specific tool and is ordered by priority.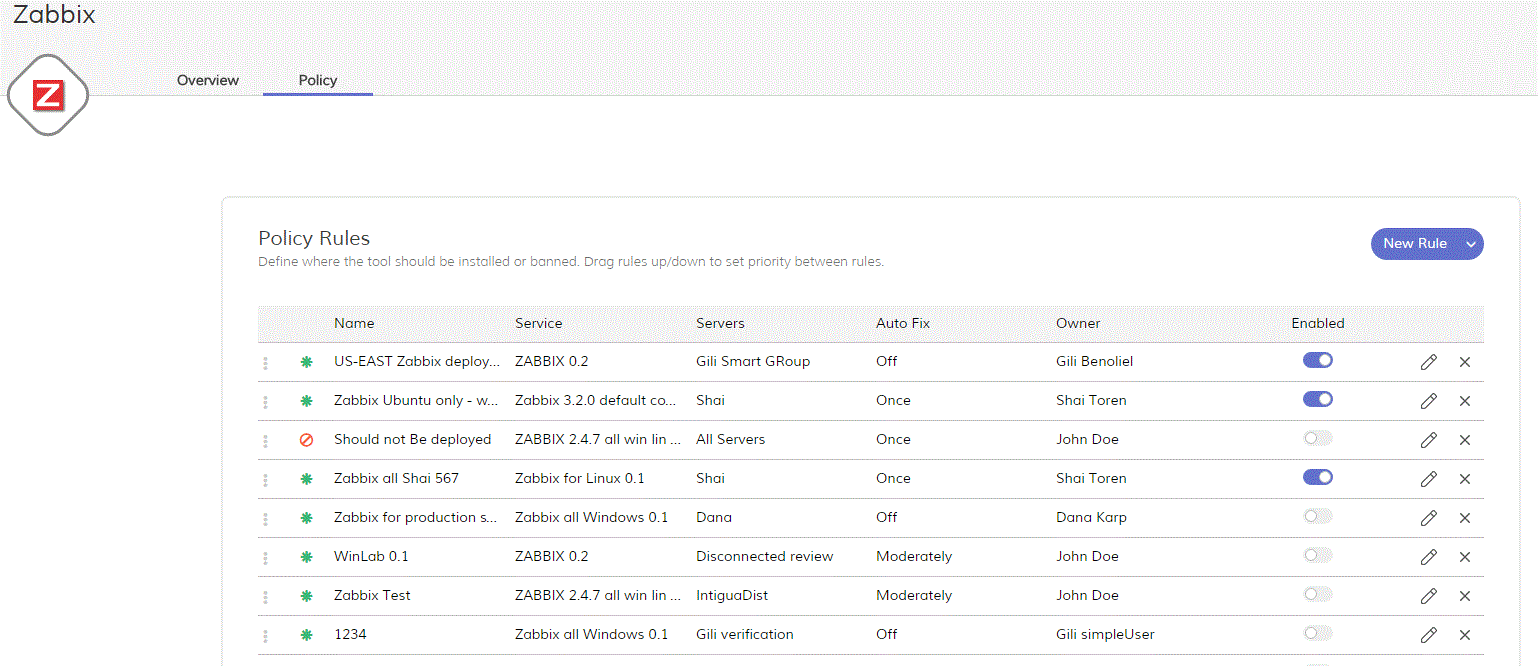 The Status of each rule is either Enabled (the management service is applied) or Disabled (the rule is inactive). For agent management services (not the connector), rules are marked by type: Include or Exclude.
You can manage the table.
To configure the policy:
In order to edit an existing rule scroll to the right in the policy configuration window and click 

Under Actions, you can Remove or Edit any rule.

To add a rule:

Click Create Rule

Enter a Rule Name
Select a Smart Group (or, All Servers)
Select Required Service
Select Auto Fix Mode
Select Severity of Related Exceptions
Choose either to enable the rule or not 
Click OK.
Click Apply.