Installing JetPatch Overview
Example HLD
Process
Sign in to AWS console, Click on Services, search EC2 and click on it

In the left pane select the AMI option. Select the private images to select the AMI ID of the JetPatch application server

Click on the Actions button and again click Launch.

From Choose an instance type tab to select the instance type based on the hardware required and Select Next: Configure Instance Details button to proceed further

In Configure Instance Details tab Select the below options highlighted as per your VPC and subnet and click on add storage button.


In Add, storage tab enter the disk size as per Hardware and Software Specifications and click on Add Tags.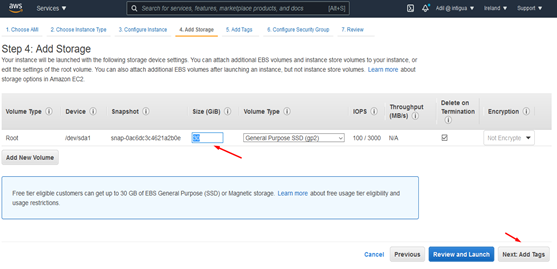 In Add Tags tab. Click to add a name Tag link in the below screen to add Tags. Give the name of the server to visible for ex: JetPatch-Application server or as per requirement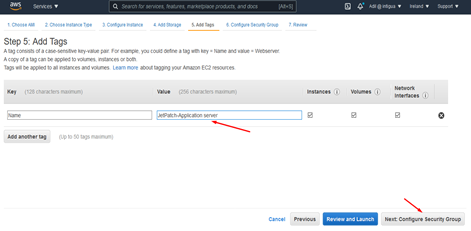 In Configure Security Group tab select the security group that is created for the JetPatch application server and click on the Review and Launch button.
Review and Launch button, review all the options.
Select a key pair from the existing key pair in the above screen and select the "Launch Instances" button to launch an instance.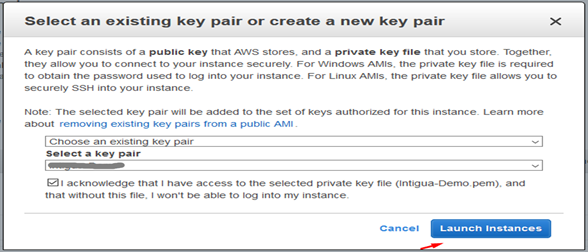 Check, the instance in the EC2 Dashboard section you will find the instance with the name you have launched.
Login to the JetPatch Console
via chrome or firefox browser using https://<DNS-Name>/
Note1: If there is an issue, please review proxy settings.
Note2: If you have your own certificate, see this article.
Next Step