Configuring User Roles
To configure a user role:
In the Users tab, click Manage Roles:

Click New Role:

3. Select permissions for this role:

Permissions that relate to endpoints and/or management tools and services are subject to endpoint scope and/or management tool ownership as configured directly for the user or group.

Regarding some of the permissions, note the following:

Manage server inventory: Includes viewing endpoints, adding discovery sources, and adding endpoints.
Smart group administration: Since the role is for non-administrators, smart group actions will affect only the user who performed the action.
Edit accounts and Assign accounts to servers refer to providing and assigning endpoint user accounts.
Manage Automation Scripts - Enables the user to control and manage the scripts and tasks section. Checking this role, would automatically select all sub permissions. If the user should have only specific permissions related to Scripts and Tasks, select the relevant permission only.

Note: if nothing is selected, then view-only access is granted.
4. Click Save.
Patching User (no user management or settings)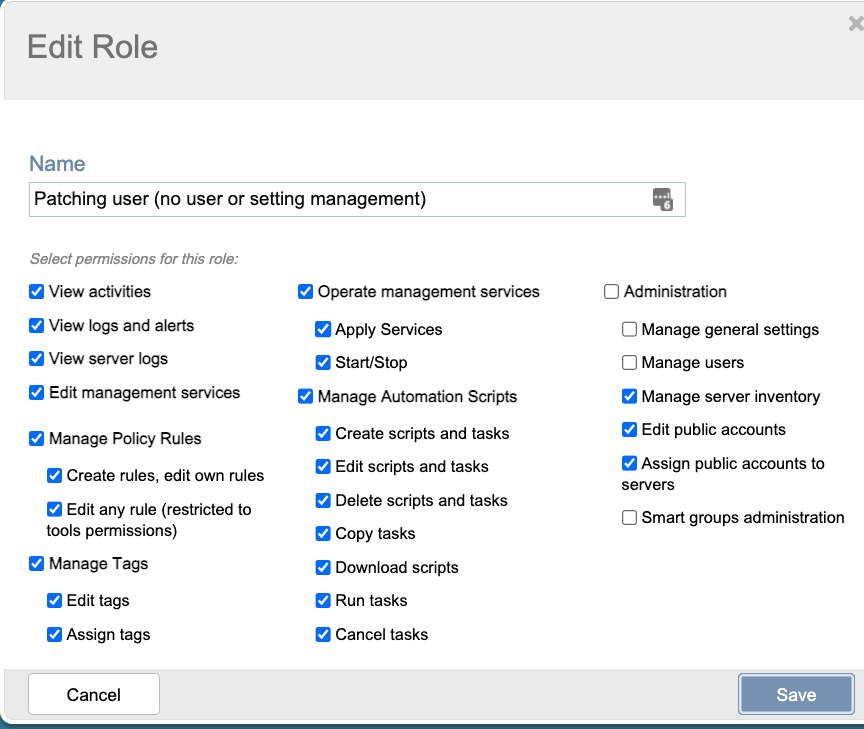 View Only User