WSUS server configuration
When using the WSUS discovery source for Windows patches, it is required to have a connector on the WSUS server and all servers that are reporting to the WSUS server will be discovered.

Configure the patch classifications to include the relevant patches for the environment you are managing
Verify that the ports 8530/8531 are open on the WSUS server for the endpoints to register
Modify IIS WSUS Application Pool Settings

Launch Server Manager – Launch IIS Manager
IIS Console – Click on Application Pools
Right-click 'WsusPool' and select 'Advanced Settings'

Change the value of 'Queue Length' under the General section to 30,000
Change 'Service Unavailable' Response Type from default HTTPlevel to TcpLevel
Change failure interval minutes from 5 to 30 minutes
Change the value of 'Private Memory Limit' under the Recycling section to 0

Enable PowerShell execution policy to run scripts
If a WSUS replica is involved, see this article.
Optional: Specify relevant languages

Options -> Update Files and Languages -> Update Lanuagees -> Download updates only in these languages (recommended English)

Optional: Remove Language Packs from classifications and products to synchronize.

Options -> Products and Classifications -> Products (uncheck non-relevant language packs)
Endpoint server configuration
Pre-requisite: In order to automate Windows Update deployment, it is required to have a connector deployed on each endpoint.
Register the endpoints to the WSUS server (can be done either by domain policy or local policy). In order to register endpoints to WSUS:

Open the group policy of the endpoint (start->run->gpedit.msc)
Configure Updates by going to Computer Configuration -> Administrative Templates -> Windows Components -> Windows Updates ->

Configure Automatic Updates -> Enabled and set to "notify for download and notify for install"
Specify intranet Microsoft update service location -> Enabled and set both URL's to http://wsusserverip:8530 (if using SSL use https and 8531)

Enable PowerShell execution policy to run scripts

Open Command Prompt and run the following commands to use the new policy and to register it on WSUS


gpupdate /force
wuauclt /resetauthorization /detectnow /reportnow
Note: if the machine is still not reporting to WSUS, open windows update agent, check for updates, and verify if that is working. If not, troubleshoot. If it does work, go back to WSUS, refresh and see if endpoint is now reporting.
Add WSUS discovery source
Pre-requisite: Have all endpoints registered and reporting to the WSUS server. It is also recommended to have the endpoints in groups before using JetPatch.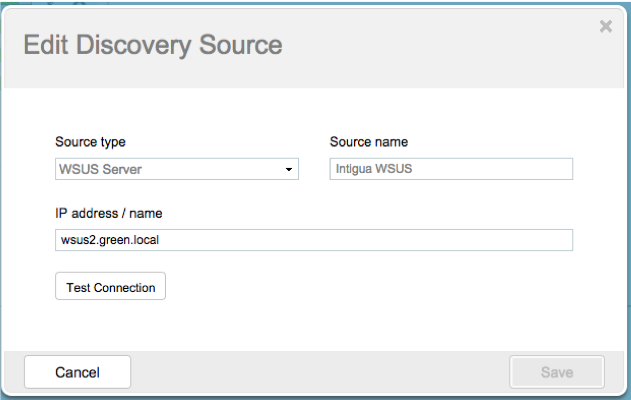 Related Articles: