The Remediation Plan compliance report gives you a complete overview of the compliance report status. 
Go to: Patches > Remediation Plans > Choose Remediation Plan and click on Compliance Report icon. 
Providing details on: 
Snapshot of the Remediation plan status: 
Percentage of: Plan installed, Updates that have failed and the Expected baseline compliance. 
Endpoints Compliance
Patching Actions Status 
Endpoints Status: 
Endpoints Patching Status: Nuber of endpoints and their status
Require Attention: Here you can see the reasons why a remediation plan can't be processed and the steps that need to be taken to enable its execution.

Low Disk Space
Powered Off
Power Suspended
Power Unknown
Disconnected
Connector Not Installed
Connector Down
Not Reachable
Invalid Credentials
Awaiting Maintenance Window
Maintenance Window Required
Maintenance Window Expired
Suspended By User
Failed 
Power shell Version Not Supported
Untested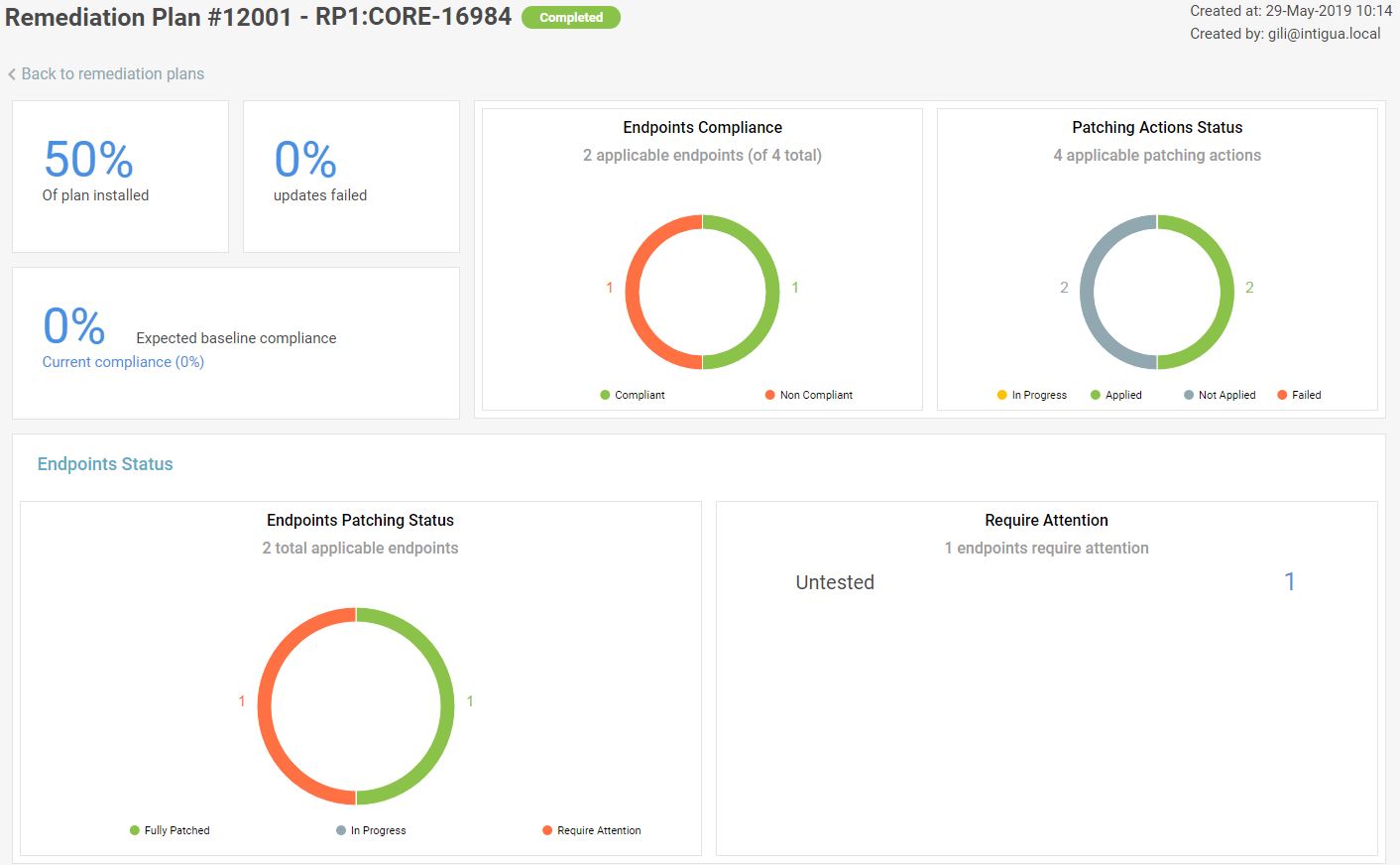 Patches Compliance And Installation Progress:
Break down of the Patch statues,  if and where they were installed and applied.
Clicking on the bar will take you to the endpoint management table. 
Filter by: 
View Details of the patch: OS/ Products/ Category/ Severity/ Release Date/ How many endpoints it is needed on.  

Applicable Endpoints Compliance Status:
The compliance status of endpoints assigned to this remediation plan. 
Clicking on the Patching Status bar will take you to the patch catalog for more information. 
Filter by: Name, Group, Operating System, Patching Status, Compliance, Vulnerability Scan, Exemption. 

Exemptions column: indicates the reasons why an endpoint will be exempted from this remediation plan. If the exemption column is empty the server can be patched.