You can tag and filter endpoints with customizable labels.
To manage tags:
In the Servers tab, select one or more endpoints, and click Manage Tags:

To create a new tag:

Click New tag:

Type the new tag's name and click OK:

Hover over an existing tag to see its controls:

: Delete tag.
: Change tag color:
To apply or remove tags:
In the Servers tab, select the relevant endpoint or endpoints.
Click Tags.
Select or clear the relevant tag or tags, and click Assign Selected:
Another way to remove a tag from a single endpoint is directly from the Tags column by clicking on the X button from the tag itself (if displayed).
Tag name can be changed from
To change Tag Name or remove tags:
Browse to /vmanage-server/patch-governance/#/endpoints/management
Click Manage Tags.
Click on Edit or Delete Icon.
Change Tag Name and Save.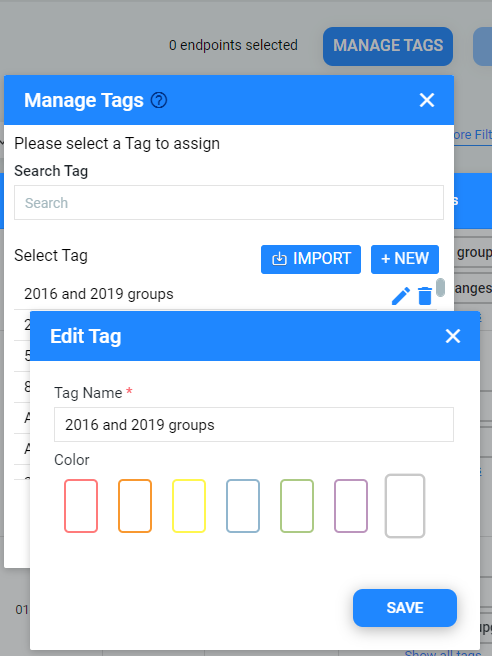 Note: Some tags can't be deleted due to smart group dependent on it. Please remove the Smart Group first, then remove the tag.
AWS Tags
For discovered AWS cloud instances, instance tags can be imported selectively. Changes made to these tags in the JetPatch Agent Manager Console will be overwritten. Please note that AWS tags cannot be removed from the servers and cannot be assigned to servers other than AWS instances.