There are two options for assigning endpoints to groups in WSUS.
1. Use the WSUS console (default)
2. Using Group Policy or registry settings on computers.
Configuration in WSUS
To choose the assignment option, make your way to the WSUS Toolbar, select Options, select Computers, and finally, select the option you would like as shown in the image below. Make sure to save the selected setting by going to Task, Save Settings, and selecting OK.
Computer Group Actions
Regardless of the option enabled, creating a group is the same. Go to the WSUS Toolbar, select Computers and then under Task, select Create Computers Group. Once done, create a name for the group under Group Name and select OK.
To remove Computer Groups, go to the WSUS Toolbar, select Computers, select the Group you would like to remove, and then under Tasks, delete the selected group and select OK.
Note: You cannot remove groups "Unassigned Endpoints" or "All Computers Groups"
Computer Assignment
In the WSUS option, you can select how the endpoints (computers) will be assigned to the Endpoint Groups (Computer groups).
There are two ways of assignment -
"Use Group Policy or registry setting on computers" - Client-Side Targeting - The Endpoint Group is determined from the endpoint itself; using a special registry key (that can be defined in GPO) you can decide which group the endpoint will be assigned to when it will be detected in WSUS. JetPatch provides auto-configuration of the needed registry key on the endpoint when deploying the JetPatch agent.


This option is good for an environment with:

All servers are fully managed and eligible for GPO changes.
Work-From-Home users that will deploy the JetPatch agent.

"Use the update services console" - Server-Side Targeting - After a computer has been detected in WSUS, it will be assigned to the "Unassigned Computers" group and the user need to perform a manual change of the computer group to the right one.
Note:
You can choose only one of the methods above, there is no option to combine the two options together.
In the upcoming versions, JetPatch will provide an automated way to assign the endpoint to an endpoint group, no matter which assignment option has been selected.
Client-side targeting is not supported in JetPatch 4.2
Client-Side Targeting
Edit the Group Policy that allows client configuration and go to the Windows Update client settings in Computer Configuration / Administrative Templates / Windows Component / Windows Update. Open the Allow client-side targeting 1 setting.
Enable 1 the parameter, enter the group (s) 2 of membership separating by one; and validate by clicking Apply 3 and OK 4.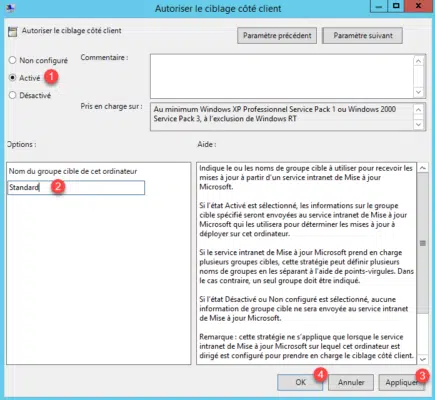 The parameter is configured, it only remains to wait for the stations to update their strategy and contact the WSUS server.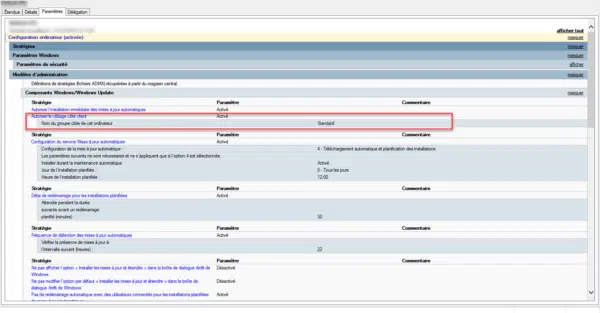 Client-side targeting is not supported in JetPatch 4.2