Prerequisites
WSUS
WSUS must have a static public IP address
WSUS must be able to communicate with http://catalog.jetpatch.com/ (note: access required, please send WSUS public IP to JetPatch team)
The 3rd Party Software Plugin should be installed in the Primary WSUS machine.
WSUS must be at release 6.2 or greater.
Machine
Operating System - Windows Server 2012 / 2012R2 / 2016 / 2019.
.NET Framework 4 or greater must be installed.
The credential used to run 3rd party software plugin must be part of the WSUS Administrators group of the WSUS Server
Installing and configuring the 3rd party software plugin
Go to

: http://catalog.jetpatch.com/ (access required, please send WSUS public IP to JetPatch team)

Download and install:

System Center Updates Publisher (Updates Publisher)

Launch Updates Publisher

Click on the blue Menu in the top left corner
Then click on Options
On the first page that will be open, hit enable Publishing to an Update Server.
Choose the Connect to a local update server
After that - Test Connection (It should say that it was successful, and will ask about a certificate (check next step))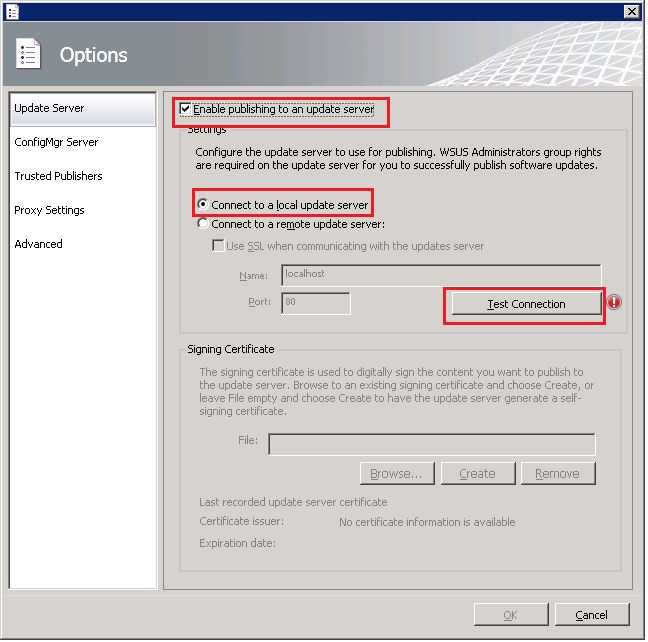 Certificate Configuration
The 3rd party software plugin will sign the packages with a certificate (should be downloaded from http://catalog.jetpatch.com/). These two certificates should be installed on every endpoint that will be getting 3rd Party app updates (check step: Deploy your code signing certificate to clients and WSUS).
Steps:
Load Certificate

- Click on "Browse" then select the certificate in the format ".pfx "

Signing Certificate

- Click on "Create" a new Certificate

Insert Password

- Fill in the certificate password of the ".pfx" certificate (provided by the JetPatch team)

Test Connection Again

Hit OK and Restart the Program.
Certificate Validation
Open Updates Publisher validate the certificate was created/imported successfully, open the program, go to Options -> Update server, and look if the information was provided in "Certificate issuer" and "Expiration Date"
Deploy your code signing certificate on WSUS
Open MMC Console as admin
File -> Add/Remove Snap In
Find Certificates and click on Add
Select Computer account
Local computer then finish
Install the certificate (.CER) to MMC (Trusted Root Certification Authorities, Trusted Publishers, and WSUS folders):
What's Next?
The next thing consist to import and Publish 3rd Party Applications to WSUS.